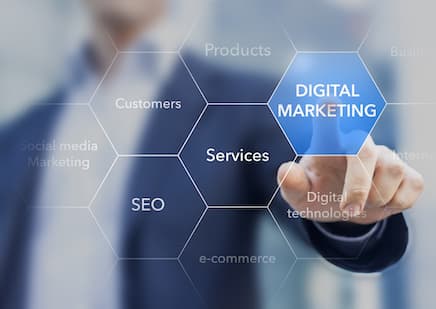 Are you thinking about hiring a team for digital marketing services? If so, statistics tell us you're not alone. In 2016, there were over 10,000 digital agencies in the U.S. That's plenty of agencies to go around, and it also means that there's a chance that your competition is using one. This could mean that they are beating you online and taking potential customers away from you.
But before you hire a digital marketing service, odds are that you'll want to know what exactly it is that they do. Believe it or not, digital marketing is not just a randomized strategy. Lucky for you, this article is going to break down what digital marketing is and what it can do for you.
Let's Define Digital Marketing
Before we discuss what it is that digital marketing can do for you, let's discuss what digital marketing is. And before we go there, let's talk about what marketing is. Marketing is promoting your goods, service, or brand to potential consumers. Part of marketing's goal is to create relationships with customers to further consumption of the product. Keep in mind that marketing is not the same as advertising, but advertising is a part of marketing. Advertising tends to be part of the introduction between the consumer and business.
Digital marketing is taking traditional forms of marketing and putting them online. Digital marketing, then, is using digital platforms to create a relationship with the customer to create a profitable relationship for both parties. But how is this done? That's where digital marketing services come in. Let's discuss a few of the most common ones, and then, we'll talk about how they all come together.
Social Media
When most people think of digital marketing, they often think of social media. There's a good reason for this. Social media is one the best ways to promote your content online and create relationships with consumers. Because people can follow your account, it's easy to see why social media makes this possible.
If someone follows your business' social media account, you can show them new blogs, promotions, deals, and the inside of your business. This, in turn, makes them more loyal to your social media page and ultimately your business. Social media is also a helpful tool if you're trying to engage with your consumers. Social media engagement usually comes in the form of polls or questions.
These engagement models show your potential customers that you care about what they think. And when you do this, people become more loyal to your brand. Social media is also great for relating to people. Most businesses have social media accounts now, but being on top of the trends will show potential consumers that you are sharp.
Content Marketing
Content marketing is one of the most important types of digital marketing tools. If you aren't creating content, then all your other strategies will suffer. Why is content marketing so necessary? It's because people enjoy the content. In a sense, social media itself is a type of content marketing. And there are 6,000 tweets sent each second.
Content on your blog is what we'll focus on here though. You should post helpful pieces of content on your blog at least once a week. This content should actually help your readers in a specific way. If you are a law firm, instead of writing a blog called, "Everything You Need to Know About Lawyers," write, "How to Know if You Need a Personal Injury Lawyer." Keep in mind that most content has already been written or filmed. So you'll need to be creative and topical when coming up with new ideas.
SEO
SEO is another pertinent form of digital marketing. SEO is the process of making your site better for Google search results. Optimizing your site leads to more people ending up on your website when looking for your industry. Because they are looking for your industry specifically, there's a better chance they'll want to buy your product or service. Having great SEO isn't easy though. It will take some keyword research, content writing, and link strategies. But it's worth it because it could bring more people to your site.
SEO is also great because it can be optimized for your area. This is called local search, and you've probably taken advantage of it before. If you've ever searched "food near me," the restaurants that come up are usually those with the best SEO. If you do your local SEO well, you could show up in that area too.
Email Marketing
Email marketing is one of the original forms of digital marketing, and it's quite simple. This is when businesses use email for their marketing efforts. This tends to be in the form of a newsletter or promotional email. People who receive this email usually get a deal or find out more about the company. Because people check their email so often, this can be a valuable way to keep customers. This is what the Top email & marketing automation company's do.
How They Work Together
These few services all work together to make consumers feel connected to your business. If someone reads your blog, newsletters, and social media feed, there's a good chance they'll become a customer if they aren't already. All of these services work together to help each other as well. Let's take content marketing for example.
Social media helps content marketing by promoting it to potential readers. Email marketing sends that content to newsletter subscribers. And SEO helps new leads find that content. All of these services work together in this way, and that's why digital marketing is so powerful.
Need Digital Marketing Services?
Now that you know a thing or two about digital marketing services, chances are that you know whether or not you want to hire someone to keep up with them for you. Keep in mind that building your online presence can never be a bad thing. If you're looking for a digital marketing group, look no further; we are eager to elevate your business! Get in contact with us today to discuss what we can do for you.