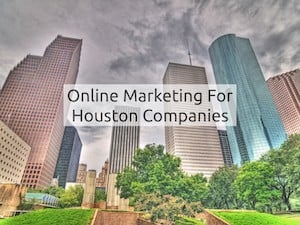 There are many different elements of running a business that contributes to its success. One such factor is online marketing for Houston companies, as this is how you tell potential customers about your products or services.
A variety of strategies can be implemented to promote your business and a Houston marketing agency can help you to find the best for your business. Here are seven reasons why this is an important and effective strategy to use.
1. Instant Data
One of the greatest advantages of online marketing for Houston companies is that you can track and collect data. You are able to monitor which campaigns are successful and which are not. It also means that you can get statistics about how much of your site traffic generated from an advertisement converts to sales.
2. Targeted Marketing
Using the Internet means that you can connect easily with your target market. These are the people most likely to show interest in and purchase your products and services. You can plan your marketing campaign according to geography and people's search history. A Houston marketing agency will support you in identifying your target marketing and planning your online advertising campaign accordingly.
3. Wider Reach
Using flyers is fine for small businesses who are only selling within the local community. If you want to attract customers from further afield and expand your business, then you need to utilize marketing strategies that allow you to connect with more people over a larger geographical area. Online marketing for Houston companies is perfect for this.
4. Increased Sales
The usual reason a business uses advertising is to maximize sales, and online advertising is a quick step to achieving this. As more people are made aware of your company and what you have to offer, sales and profits will rise. Using the services of a Houston marketing agency can help you to find the best way to increase sales through online advertising.
5. Effective Purchase Journey
Every experience a customer has with your business has the potential to influence their decision about whether to buy from you or to turn to your competitors. This starts with their initial perception of your business right through to finally deciding to make a purchase. Evidence suggests that customers are more likely to engage with your products or services and have the right perception of your business through digital media.
6. Creating a Brand
Building brand recognition is vital to the success of your business, and a Houston marketing agency can support and guide you in this. It will help people to connect to your products and services, make the memorable and increase the likelihood of consumers making a purchase.
7. Business Signs & Print Advertising
You've created a brand that resonates and now it's time to get your signs and graphics for your business signs. That's right, even though your online marketing should be the foundation, traditional marketing has it's the place. Just get your online platforms working first.
Online Marketing For Houston Companies
These are just some of the benefits you can expect from using online advertising. Depending on your business type, you may find many other advantages. Contact IMPROZ today and let us help you get the most out of online advertising for your business.