]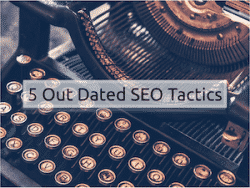 If you have been involved in internet marketing for the last number of years, then you know that things have changed.
Algorithms have been updated and many of the ways to optimize your website have become outdated SEO tactics. Here, we take a look at some of those outdated practices which are ineffective and possibly even harmful to your website and internet marketing strategy.
Using Single Keywords

In the past, you could focus all of your content around that one magical keyword to bring you a lot of traffic. While this traffic may not have given you any results as far as sales went, because the readers were annoyed, it could get you ranked highly. Now, there are more businesses out there that are specializing sites by focusing on a long string of keywords and phrases.
For example, if you sell books on how to design cakes, then you won't just want to focus on the word cake. This is an outdated SEO tactic for sure. Now, you want to capture a much more specific audience that wants to learn how to design their own and those words put together is where your attention should be placed. Incorporating key phrases in your internet marketing strategy is something that you should apply in place of one keyword.
The More Links The Better

There has been a big crackdown on how links are being obtained, and in internet marketing, if you are using any outdated SEO tactics to get you links then you're leaving yourself open to some serious consequences. In the old days, getting a ton of links was the objective. The goal now is quality links from relevant people in your niche. If you have these, then you will surpass even some of the top companies out there.
Guest Posting

This one can get a little tricky these days because it really depends on what your end goal is when it comes to guest posting. While some people have only used guest posting to build links, and they would post on sites that had no relevant relationship with there own niche, these links are now no good and can get you to penalize by the search engines. Be sure if you are still guest posting that it has an honest purpose and follow the right patterns of relevance and are of high quality.
It's All About Internally Optimizing

In the past, it has seemed that SEO was a form of internet marketing that was done behind the scenes. People were link building, writing codes, and the content that was put out had no other purpose than being keyword rich. Now, in order to optimize your site, you have to have internet marketing savvy and focus on high-quality content, building relationships, and getting organic links and growth. The process has become just as external as it is internal these days.
Having a Ton of Pages Full of Text

You just don't need a lot of text anymore to get higher rankings. There are so many other forms of content that are proving to be just as effectively such as videos, podcasts, and infographics. In the past, most internet marketers focused on having a lot of pages with tons of mediocre articles-these are outdated SEO tactics. Now the focus is on quality content and fewer pages of it. Take your time to produce quality over quantity because search engines have discovered that this is what people are truly in search of.
If you believe your SEO is not up to the quality it should be, and you are using old tactics, contact IMPROZ today and we'll pull you out of any danger that you may be in when using these old tactics. Our highly knowledgeable team have what it takes to get you noticed and reveal the true potential behind the mask.